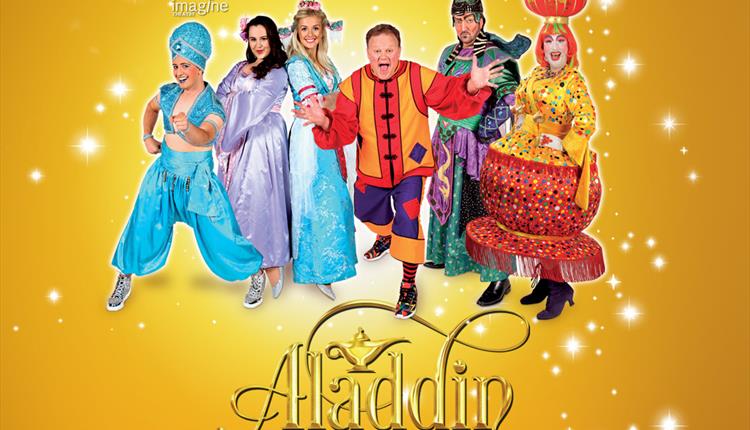 About
Children's television Mega-Star JUSTIN FLETCHER returns to play Aladdin and he is once again teaming up with award-winning panto dame PAUL MORSE as Widow Twankey.
Will Aladdin be able to make his fortune by outwitting the wicked Abanazar with the help of the magical Genie of the Lamp?
Will our hero be able to win the heart of the beautiful Princess aided by the kind and loyal So-Shi?
Will poor Widow Twankey be stuck washing laundry forever?
Come along and find out!
With an adventurous hero, a dastardly baddie and a magical genie, along with spectacular scenery, stunning special effects and hilarious slapstick comedy, The Hexagon promises another spectacular show this festive season, so make wishes come true this Christmas and book your tickets now.
Justin Fletcher ~ Aladdin
Paul Morse ~ Widow Twankey
David J Higgins ~ Abanazar
Aaron Gibson ~ Genie of the lamp
Sophie Ayres ~ The Princess
Lydia-Rose Bertie ~ So-Shi
Guide Prices
Ticket information
Opening Weekend: £20.50, £18, £14

Premium Performances:
£27.50, £25.50, £22.50
Groups 10+: £20 1 in 20 free
Youth Groups: £18.50 1 in 15 free

Peak Performances:
£25.50, £23.50, £20.50
Groups 10+: £19 1 in 20 free
Youth Groups: £16.50 1 in 15 free
Schools: £12 1 in 10 free

Off Peak Performances:
Public £24.50, £22.50, £19.50
Groups 10+: £19 1 in 20 free
Youth Groups: £16.50 1 in 15 free
Schools: £11 1 in 10 free

Relaxed Performances: £13.50
Friday 14 Dec, 10.30am
Friday 4 Jan, 2pm

Signed Performances:
Friday 21 Dec, 7pm
Thurs 27 Dec, 1pm
Sat 29 Dec, 5pm
TripAdvisor
Opening Times
Sorry, this event has passed