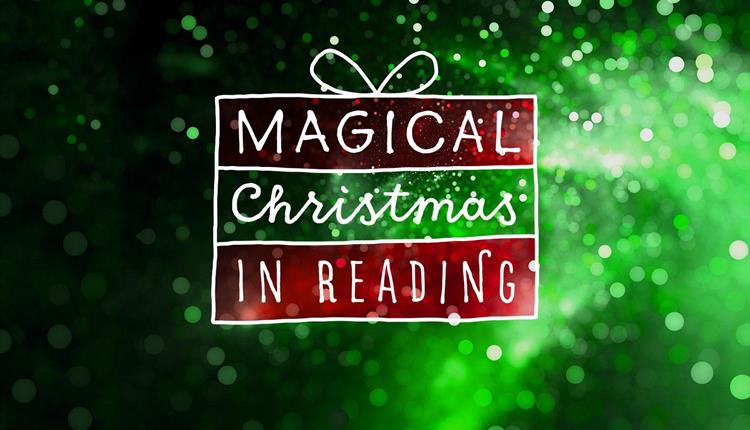 About
The Christmas magic returns to Reading!
16 NOV – 24 DEC
Reading will be hosting a very magical Christmas for the second year. More than 50 events – most of them free – will make the town dazzle for families.
Saturday, 16 November
Santa will arrive on a motorised bed to light up the town and Broad Street Mall with thousands of Christmas lights.
The Elf Station will open at Broad Street Mall for free festive crafts and letter writing. Elfie selfies, sweet treats and more.
Ice rink at Forbury Gardens opens along with a cosy apres ski bar.
Saturday, 30 November
Magical Extravaganza set in the stunning Abbey Ruins and culminating in fireworks sent fizzing skyward from the top of The Blade skyscraper, with music, boat trips, food and lights.
The Oracle opens its Magical Wonderland, with three shows a day every Saturday on their festive ice rink.
1-24 December, Living Advent Calendar
Free events every day – and sometimes several a day - right up until Christmas Eve. There's tons to do for children from crafts and singing to badge, candle and film making, stories and several fairytale performances.
Families will be entertained with making gingerbread, comedy with your baby and appearances from the Ice Princesses from Frozen.
Special escape room challenge involving 12 pubs, comedy nights and special drag shows.
Take a trip up Thames Tower for festive disco dancing and cheeky cocktails, watch out for the mariachi Brass Santas around the town or simply go along to a more traditional carol service or watch a festive choir performance.
The famed Reading panto at The Hexagon is Cinderella this year starring cBeebies superstar Justin Fletcher
Strap on your fake Santa belly to take part in the annual Santa Run around town.
Broad Street become Daredevil Alley when an assortment of adventurous circus acts arrive. On Saturday, December 21, Broad Street will thrum with juggler and comedian Dan the Hat, escapologist AJ James with his knife juggling on a balance board, escapes from chains and leaping through fire. Felicity Footloose will juggle, dance and perform intrepid acrobatics while Flame Oz - the UK's premier fire act - will dazzle with their trailblazing show.
Reading Winter on Ice
Forbury Gardens, 16 Dec until Jan 5
11am-10pm
Real skating rink, an apres ski bar and Santa's Grotto
Sat 30 Nov
Magical Extravaganza
Abbey Ruins, Chestnut Walk, The Blade and town, 12-6pm
Fizzing fireworks at the top of The Blade, music from Ma Bessie, Dat Brass, Avenue and Flamenco Thief, boat trips, food, lights and more in the Abbey Ruins. Reading at its magical best!
Sat 30 Nov, Sat 7 Dec, Sat 14 Dec, Sat 21 Dec
Magical wonderland at The Oracle
4.30pm, 5.30pm, 6.30pm
See wondrous wintry ice capade performances on The Oracle's festive ice rink.
Sun 1 Dec
M&S, 1-2pm
Reading Phoenix Choir
Join Reading Phoenix Choir to enjoy your favourite festive tunes.
Hansel & Gretel
The Vault in Market House , 7.30-9.30pm
Rabble theatre company with a special showing of this fairytale
Sat 7 Dec
Cinderella
The Hexagon, until 5 Jan
cBeebies superstar Justin Fletcher joins Paul Morse in the classic tale of Cinders
TimeTrap presents 'The 12 Pubs of Christmas'
Sat 7 Dec and Sun 21 Dec
12 venues, 4-7pm
TimeTrap Escape Rooms presents this collection of 12 escape room-style challenges hidden within 12 popular pubs throughout Reading with prizes for winners.
Peter Pan film (1924) with live harp accompaniment
Roseate Hotel, 4-5.45pm
A charming and magical 1920s version of James M. Barrie's timeless story with
silent movie harpist Elizabeth-Jane Baldry
Sun 8 Dec
Cast Iron Theatre - Gingerbread Tales
Bill's, 2.30-3.30, 4.30-5.30pm
Join storyteller, performer and cook Laura Murgridge for this Christmassy treat! As you make biscuits together, she'll tell you about the history of gingerbread!
Santa Run
Forbury Gardens, 9am
Don your Santa suit and join hundreds of others on this popular Rotary Club Santa run, 5k for adults and a mini 1k for children
Mon 9 Dec
Bring your Own Baby Christmas Special
Novotel, 11.30am for a 12pm start
Daytime comedy club, Bring Your Own Baby Comedy are back so bring your baby and your mates for laughs, coffee (or wine!)

Thu 12 Dec
Civic Carol Service
Reading Minster, 6.30-8pm
A traditional carol service – all welcome
Wed 18 Dec
Christmas Hits Silent Disco
Thames Tower, 7-10pm
Festive disco dancing and cheeky cocktails on top of the Thames Tower
19:00-22:00
Fri 20 Dec
The Brass Santas
Multiple locations in town, 5-9pm
Travelling Mariachi band go jolly loco!
Sat 21 Dec
Circus on Broad Street
Times vary
Dan the Hat - Juggler and comedian. Let Dan the Hat take you on a frenzied journey of skills and comedy.
Escapologist AJ James. Watch as AJ does knife juggling on a balance board, a timed escape from chains, leaps through fire, multiple back-flips and somersaults.
The Felicity Footloose Show. Felicity juggles, dances and performs daredevil acrobatics
Flame Oz. The Flame Oz Fire Show is the UK's premier fire act.
Tue 24 Dec
Storytelling & Songs with Mother Christmas (and family)
The Hexagon, 1-3pm
Mother Christmas shares some of her favourite festive stories and songs.
TripAdvisor
Opening Times
Sorry, this event has passed