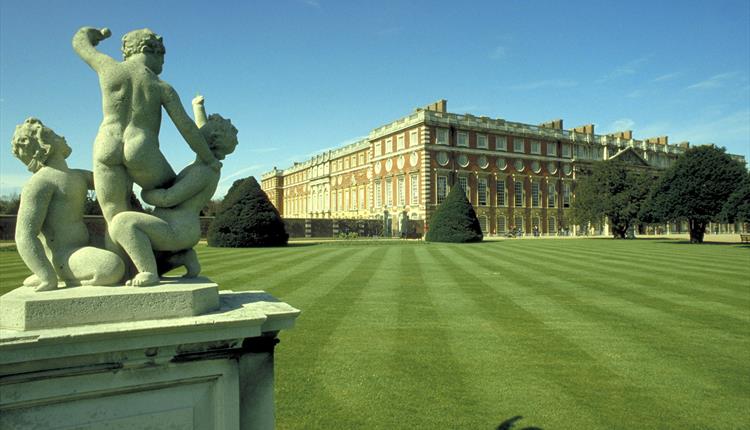 About
Although his father and later his daughter preferred Richmond as their royal residence, Henry VIII cast envious eyes at Cardinal Wolsey's palace taking shape at Hampton Court. Nowadays the overwhelming grandeur of Hampton Court's 1000 rooms, Royal Art Collection, formal gardens and yew maze never cease to impress and the 'Great Vine' and recently restored Privy Garden should not be missed.

Either side of the Palace are Bushy Park and Home Park, both former Royal hunting grounds where herds of deer wander at will. Home Park welcomes thousands of visitors each year during the Hampton Court Palace Flower Show in July.

Actor David Garrick was a Hampton resident, building an ornate temple to Shakespeare at the foot of his garden. Garrick's Temple has been renovated following a successful lottery bid.
TripAdvisor
What's Nearby
This magnificent palace set in delightful gardens was famously one of Henry VIII's…

0.08 miles away

Hammertons Ferry is a passenger and cycle ferry service across the River Thames in the…

3.15 miles away

3.21 miles away
A tour company specializing in one way guided bike rides and luggage transfer to historic…

3.45 miles away

Situated in a delightful backwater between Shepperton and Sunbury locks, the Marina…

3.96 miles away

River Thames Boat Project offers therapeutic cruises and educational activities on the…

4 miles away

Enjoy classic cruises along the most picturesque and best-loved banks of the River…

4.49 miles away

Boat Sales, Moorings, Boatyard Services and Trail Boat Storage with Slipway located on…

4.69 miles away

5.26 miles away

Nauticalia Marine Services are located at Shepperton Lock next to the River Thames.

5.26 miles away

Chas Newens Marine Co. Ltd has been established on the River Thames since 1978 evolving…

6.76 miles away

Set in 80 acres and with 575 berths, Penton Hook is Britain's largest inland marina.

7.12 miles away

Penton Hook Marine Sales specialise in the sale of pre-owned and new motor cruisers.

7.19 miles away

Chertsey Museum first opened to the public in 1965, displaying a collection of local…

7.31 miles away

Thames Kayaking and Sluice Trips. Recreational Kayaking for everyone.

7.32 miles away


Truss's Island is a small riverside park with a picnic area and public slipway to the…

7.62 miles away
Previous
Next