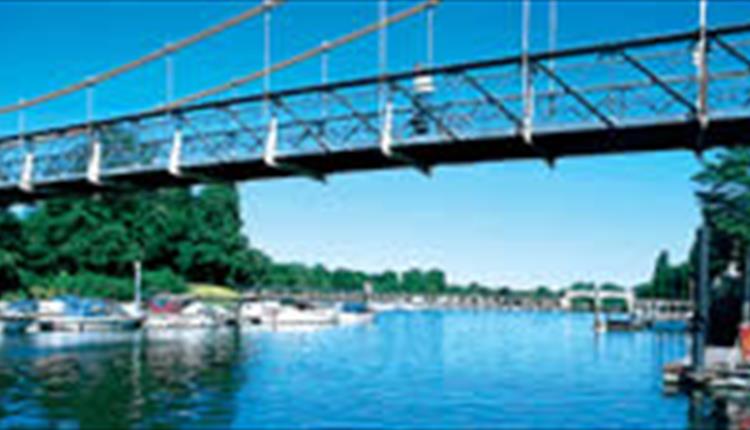 About
Teddington is a suburb of Richmond It is at Teddington and it is here that the tidal river starts and the first lock, Teddington Lock and weir, was constructed in 1811. In 1889 Teddington Lock Footbridge was built ( a suspension bridge), linking Teddington to Ham. There are three locks that separate the tidal river from the non-tidal river and it is the largest lock complex on the Thames. The Thames plays an important part in the life of Teddington stretching frin Hampton Wick to Strawberry Hill, Twickenham. The high street runs from the river to Bushey Park.
Bushy Park, a former Royal hunting ground and a Royal Park, where herds of deer still wander at will was the UK base for General Eisenhower when planning the D-Day operation in 1944. It is the second largest park in London and was one of King Henry VIII's favourite deer parks. Charles I also built the Longford River to bring water into the park. Close to Hampton Court Palace it is known for its mix of waterways, gardens including Upper Lodge Water Gardens, and roaming herds of deer.
In 2021 The Sunday Times voted Teddington the 'Best place to live in London' with its towpath, the Thames Path National Trail, Bushey Park, a wide variety of artisanal shops, restaurants and cafes.
River Thames boat trips from Hampton Court to Kingston and beyond to Richmond pass through Teddington Lock. A footbridge across the lock from Ham leads to Teddington village where, housed in a French gothic style former church, the Landmark Arts Centre is based and hosts concerts, arts and crafts fairs and exhibitions.

Noel Coward was born here.Barnes Wallis, the inventor/scientist developed the bouncing bomb at the National Physical Laboratory and Errol Flynn began his film career at Teddington Studios. R D Blackmore, author of Lorna Doone, also lived in the area.
Thames Path National Trail
At Teddington you can chooose to walk along the North or the South Bank to Richmond.
North Bank Teddington to Richmond 3.5 miles - a walk through history! The Path heads off the river, passing Strawberry Hill, (a gothic style house designed by Horace Walpole, now open to the public), past a statue of a soldier commemorating local medn who died in the First World War, Eel Pie Island (a 1960s music venue whre the Rolling Stones, Pink Floyd and The Who performed), The White Swan pub (17th century), then past 18th century Orleans House and Ham Ferry (operates Feb-Oct) and then Marble Hill House and on to Richmond Bridge, the oldest bridge over the London Thames (built in 1777).
South Bank Teddington to Kew Bridge 2.75 miles - The Path mainly stays along the river passing through Ham Lands nature reserve, woodland and parkland, then Ham House wildflower meadow and the House itself built in 1610 and now National Trust with beautiful gardens Then into Buccleuch Gardens and reach the riverside promenade to Richmong Bridge.
Take a look at the Thames Path route descriptions
TripAdvisor
What's Nearby
This magnificent palace set in delightful gardens was famously one of Henry VIII's…

1.59 miles away

Hammertons Ferry is a passenger and cycle ferry service across the River Thames in the…

1.76 miles away

A tour company specializing in one way guided bike rides and luggage transfer to historic…

1.93 miles away
Previous
Next