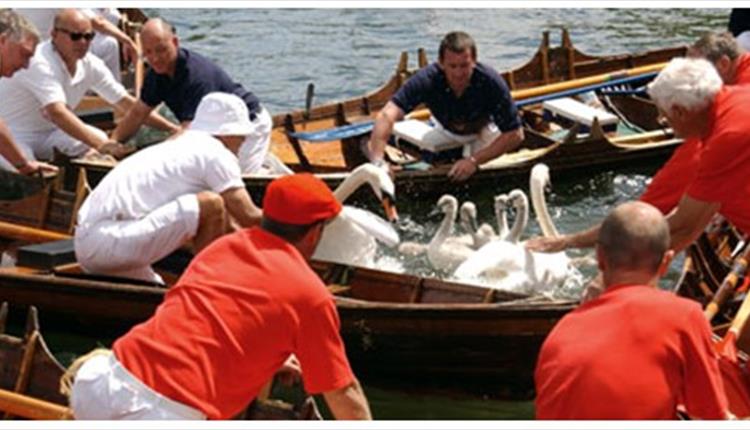 About
Royal Swan Upping is the annual census of the swan population on stretches of the Thames in the counties of Middlesex, Surrey, Buckinghamshire, Berkshire and Oxfordshire. This historic ceremony dates from the twelfth century, when the Crown claimed ownership of all mute swans.

The Queen's Swan Marker and the accompanying Swan Uppers of the Vintners' and Dyers' Livery Companies use six traditional Thames rowing skiffs in their five-day journey upstream to Abingdon. By tradition, scarlet uniforms are worn by The Queen's Swan Marker and Swan Uppers, and each boat flies the appropriate flag and pennant.
Swan Upping takes place during the third week in July and the observation points and times will be published.
In 2021 Swan Upping will commence on Tuesday 20th July from Eton Bridge, Berkshire and will finish on Thursday 22nd July at Moulsford, Oxfordshire provided there are no Government restrictions in place in respect of Covid-19. A full agenda will be published in June on the Buckingham Palace website.
Feeding Swans
Statement from The Queen's Swan Marker, David Barber, MVO
Swans often find it difficult to survive during the winter months as the supply of river weed and vegetation, which is their natural food resource, is in short supply in rivers and lakes. The lack of natural food mainly affects large flocks that rely on members of the public to supplement their diet. This winter has brought another problem for the swans to contend with; avian Influenza (HPAI) H5N8. This disease has already killed many hundreds of swans throughout the country in 2020. Public Health England advises the risk to humans from avian Influenza is extremely low.
We would ask members of the public to continue feeding swans, subject of course to Covid-19 Government regulations. This will help in two ways; it will enable the swans to survive the cold winter months, keeping them healthy and able to fight off infection from avian Influenza. It will also prevent hungry swans from flying to new territories in search of food which could transmit the disease to further locations.
The ideal food for swans includes:
- Leafy greens
- Bread (not mouldy)
- Wheat
- Swan pellets
- Poultry corn (only in shallow water where they can reach the bottom)
Please remember that swans should always be fed in the water. Advice on swans and feeding can always be found from your local swan rescue organisation.
TripAdvisor
Map & Directions
Opening Times
Sorry, this event has passed