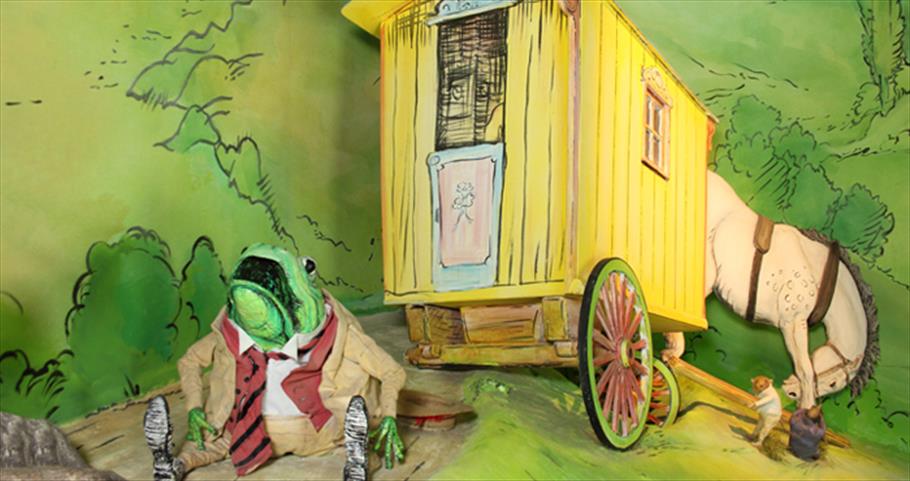 Family Fun Events
The attractions along the Thames offer a varied programme of activities for children of all ages. Here's some of the latest family things to do from September 2020
September Events at the River & Rowing Museum (We're Good To Go)
Wind in the Willows Family Fun at the River & Rowing Museum - Sunday 13th September 2020, 10:15 am - 4:00 pm. Explore the world of Ratty, Mole, Badger and Toad in these special family 75-minute sessions with things to make, colour, and create.Maddy will weave her storytelling magic and you might even meet Mr Toad!
Treasures and Tales Family Fun - 20th September 2020 @ 10:15 am - 4:00 pm. Travel back in time…. Hear tall tales and discover treasures of Henley in these special family sessions with things to make, colour, and create.
Wind in the Willows and Treasures and Tales C £5, A £3, max 2 adults per child. Museum admission is not included. No unaccompanied children.
Tiny Toads - Thursday 17th & 24th September 2020 @ 10:15 am - 11:00 am. Join us every Thursday for film, craft activities and fun, bringing the Museum to life for your little ones. Each week will feature the exclusive film premiere of 'Storytime with Maddy' with a different theme and characters.There will be things to make, colour and create and a visit to the galleries to see the object, painting or exhibition that inspired the session.Children will discover the treasures in our collection and gain confidence in themselves and the Museum setting. Aged 18 months – 5 yrs, £4.50 per child.
Pre-booking is essential and places are limited so book a session and bring your friends!
Click here to book a Museum Self-Guided Visit of the Wind in the Willows 3D exhibition. C £6, A £9
Bring the exhibition to life with the Wind in the Willows Meadow Trail, a new free outdoor self-led trail designed for families with children under 11. The riverbank trail includes Ratty's water trees, Mole's eye view of the meadows and Badger's Woods.
We are following all government guidelines for Covid-19 and the safety of our visitors, staff and volunteers is our primary concern. Social distancing will be observed and crafty kits will be for individual use.
Medieval Jousting at Stonor (We're Good To Go)
Saturday 26th & Sunday 27th September
Join the Knights of Royal England for an epic display of medieval jousting at Stonor Park. See spectacular horseback stunts as well as foot combat with medieval weaponry. Falconry displays will take place during the day and food and drink will be available including Stonor Gourmet Venison Burgers. You can also buy wooden swords, shields and bows and arrows from the Armoury.
Medieval Costume Competition - Dust off your chainmail and be part of the fun in our Medieval Costume Competition. There will be a prize of a bottle of mead for the adult in the best medieval dress and a wooden sword and shield for the best dressed child each day.
At the same time let the children explore Wonder Woods at Stonor - where they'll have hours of entertainment swinging, jumping, sliding, climbing and splashing.
Pre-booked ticket only includes access to the Medieval Jousting Arena, The Gardens at Stonor and The Wonder Woods Adventure Playground. Tickets are not timed and can be redeemed at any time during the day. Last entry is 4pm. A £14, C £12, Family £44 Save £2 per ticket/£4 family Early Bird Offer
Stonor Park is fully qualified by Visit Britain's We're Good to Go tourism programme meaning that we are adhering to Government and public health guidance and have the required processes in place. The Knights of Royal England have also been performing a very popular programme of performances throughout August that have been specially developed to operate safely during the Covid-19 outbreak. Two metre circles will be marked around the arena from where spectators can watch the performances in their own family bubbles.
50 things to do at Cliveden before you're 125 ¾
As part of our celebrations for the 125th anniversary of the National Trust we're releasing 50 things to do at Cliveden before you're 125 ¾. This is a list compiled from suggestions by our lovely volunteers, staff and visitors to help you get the best out of your visit to Cliveden the whole year round. We hope that ticking your way through this list will help you to re-connect with nature, re-discover your inner child and fall in love with all Cliveden has to offer, come rain or shine. Some points are currently closed, due to covid-19 guidelines, however we hope to reopen these areas as soon as it is safe to do so. Spot the difference between the ancient baboon statues in the Long Garden… Click here to see the full list.
East Terrace Garden Windsor Castle Open at Weekends during September
The East Terrace Garden at Windsor Castle is open to visitors at weekends for the first time in decades. You can explore the garden and enjoy the view from its terraces across the surrounding Windsor parkland. The large formal garden, created by George IV in the 1820s, is overlooked by Windsor Castle's famous east façade and features clipped domes of yew and beds of roses planted in a geometric pattern around a central fountain. In 1971 The Duke of Edinburgh redesigned the flowerbeds and commissioned the bronze lotus fountain based on his own design for the centre of garden. You can learn more about the history of the gardens in our news story or by hearing a short introduction given in the garden every 20 minutes during the afternoon (from 12:00-15:00).
Included with Castle ticket or 1-Year Pass
Heritage Open Days Reading
Online and in-person events will be taking place 11-20 September 2020
This year, there will be events focusing on Reading's natural heritage and wildlife, as well as its fascinating history and many historic buildings.
Ever walked round Coley Meadows at dawn?
Wondered about the Wire Mill building on the Kennet?
Seen inside Watlington House, one of Reading's oldest buildings?
Visited the Ure Museum of Greek Archaeology?
Tried your hand at willow weaving in Dingley Dell?
Looked around Brock Keep to see how artists use the historic building today?
Heritage Open Days is England's largest festival of history and culture. Reading event organisers have responded to the challenge of COVID restrictions with a wide range of events, many of which embrace the theme of this year's festival, Hidden Nature on our doorstep.
Confirmed in-person events include tours of Caversham Court Gardens historic allotments; a guided walk around the Caversham Road area; willow weaving workshops; walking tours looking at Reading's influential women throughout history; an open day for Wire Mill at Southcote Lock on the Kennet; pond dipping and wildflower hunting at Lousehill Copse; a walking tour of Reading's heritage trees; building "bug hotels" in The Artists' Garden at Brock Keep - historic former armoury and gatehouse to Brock Barracks. For more information click here
All in-person events are small group, socially distanced events following COVID guidelines. Please check before travelling as most will require advanced booking.