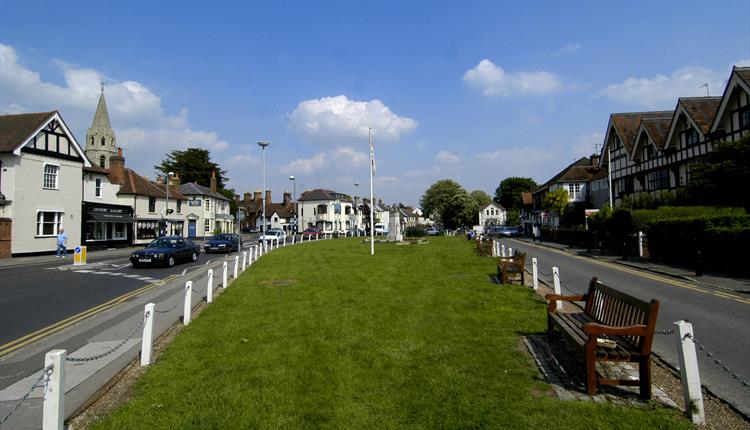 About
Despite much modern development, Datchet still manages to retain many features of the quiet riverside settlement it once was. The older buildings cluster around The Green with its central oak tree commemorating Queen Victoria's Jubilee, while those of later periods line the roads towards the river where Thameside gardens form an attractive feature.

There was a church at Datchet in the 13th century, but along with most others in the area it was rebuilt in the middle of the 19th century and subsequently enlarged. A portion of the earlier church can be found at the east and the chancel has two interesting brasses – one to the memory of Lady Katheryn Berkeley and another erected in 1593 to the memory of Richard Hambery, a London goldsmith and his wife.

Being convenient for London – with its own train station and close to the M4 motorway – Datchet has been home to many famous people over the years, among them Sir Isaac Walton, who often fished locally, and William Herschel, the astronomer, who later moved to Slough.

A name less famous but still remembered locally is Robert Barker who was the royal printer to Elizabeth I and James I and who, at his own expense, printed the 'Authorised Version' of the Bible in 1611. Sadly he died in a debtors' prison in 1645 but to this day the village benefits from the Barker Bridge House Trust set up in his name.


TripAdvisor
What's Nearby
Whether you have a week, a day or just a few hours, relax, unwind and discover the hidden…

0.43 miles away

Stanley & Thomas Boat Builders were established in 1983. Located at Tom Jones Boatyard…

1.08 miles away

Set amidst the extensive Home Park of Windsor Castle, Frogmore House is surrounded by…

1.12 miles away
Windsor Carriages invites you to experience the wonder of Windsor Great Park by horse…

1.17 miles away

The oldest and largest inhabited castle in the world and The Queen's favourite weekend…

1.2 miles away

The Changing of the Guard is one of the highlights of a visit to Windsor. A band usually…

1.23 miles away

The Theatre Royal Windsor is a beautiful Edwardian theatre nestling between Windsor…

1.23 miles away

The Wren's Club at Sir Christopher Wren Hotel & Spa provides three floors dedicated to…

1.25 miles away

Windsor Tourist Guides Ltd - a multi-award winning company based in Royal Windsor…

1.25 miles away

Day visitors to Windsor can choose either a short 40 minute return trip or a longer 2…

1.3 miles away

The jewel in the Royal Borough's crown, Windsor and Royal Borough Museum is a family…

1.37 miles away

Through temporary and permanent exhibitions and a rich programme of events, Slough Museum…

1.41 miles away

Windsor Farm Shop sells a range of products from the Royal Farms and small local…

1.51 miles away

Plans to create a riverside garden in this area date from 1893 although the possibilities…

1.69 miles away

Situated on Stovell Road, Windsor, with the famous Windsor Castle nearby, we are a…

1.8 miles away

Set in a symbolic acre of land donated to the United States of America by Queen Elizabeth…

2.22 miles away
Previous
Next