Henley Festival
Friday Street
Henley On Thames
Oxfordshire
RG9 1AH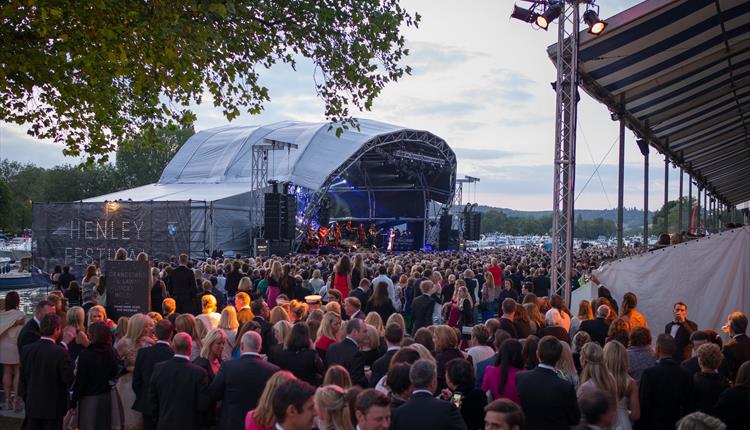 About
Henley Festival is a boutique event taking place over five days celebrating the best of UK & international music and arts at a quintessential British location. It's a place to soak up the atmosphere and be entertained whilst experiencing a vibrant programme from pop to world music, classical to jazz, blues to 'street' musicians, where art, comedy and gastronomy share equal billing with music.
Henley Festival began as an idea, by a few, in 1983, to bring music and culture to the town of Henley-on-Thames.
In 2018, this extraordinary Festival will bring artists of the highest calibre from all over the world, and draw an audience in excess of 30,000 to the most magical festival setting they will ever experience.
This year also sees us working in partnership with an array of charities, artists and creative thinkers, supporting collaboration between them, as they invent the cultural future.
We've come a long way since 1983 and we are excited about where we are going in the future.
Our current priorities are;
To increase the impact of our organisation both on our audience and wider world.
To grow our audience by continually innovating through creative programming that maintains the highest artistic standards.
To improve financial resilience which will enable us to continue to offer and achieve our wider charitable goals.
To invest in growth and continue to innovate
Henley Festival is growing. Since 2015 our audience has increased by 40%, we've doubled the amount of music, comedy and art over the 5 nights and 20% of the Festival revenue is pumped directly back into the local economy through our grant initiative, working with local food and beverage suppliers and a core part of our music and art programme is from local talent.
Facilities
Provider Preferences
TripAdvisor
Opening Times
Sorry, this event has passed