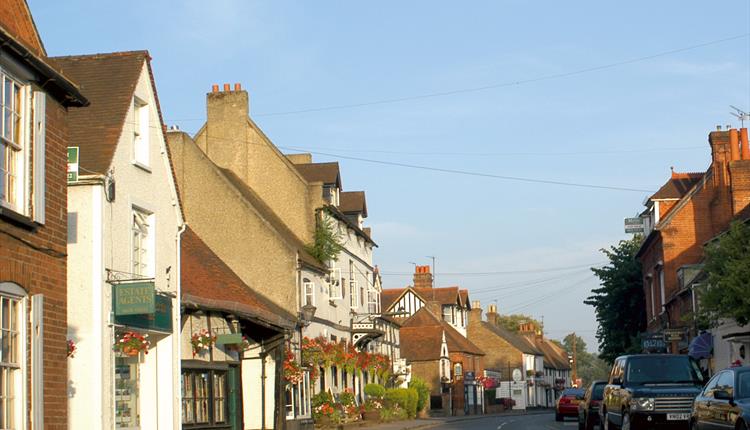 About
The Royal Manor of Cookham was held by the Crown until 1818 and today, although many changes have taken place, the village has made the most of its position and is now one of the most popular Thameside resorts with its many superb restaurants and inns, including Bel and the Dragon dating from 1417 and reputedly one of the oldest licensed houses in England!
The church of the Holy Trinity, although considerably restored, still exhibits parts of its Norman origins as well as many examples of later construction from early English to the late Perpendicular period when the tower was erected. The interior contains many interesting brasses and memorials.
The name of Cookham today is closely associated with Sir Stanley Spencer, one of the greatest British painters of the 20th century who lived in the village until his death in 1959 and who used its scenery as the background to many of his paintings. Another famous former resident was Kenneth Grahame, author of 'The Wind in the Willows'. He lived with his grandmother at 'The Mount' in Cookham Dean. It is thought this is where he wrote the book and it is certainly accepted that the river scenes between Cookham and Henley inspired the work along with Winter Hill above it.
Cookham is one of a number of locations along the Thames where the colourful Swan Upping Ceremony takes place during the third week of July. This is the time when the Queen's Swan Marker and The Royal Swan Uppers, who wear the scarlet uniform of Her Majesty The Queen, travel in traditional rowing skiffs, collecting data, assessing the health of young cygnets and examining them for any injuries.

The centre of the parish is at Cookham Rise, which has a modern shopping development and a station on the Maidenhead to Marlow branch line with connections for London. The favoured residential area of Cookham Dean is noted for the beauty of its cherry orchards in springtime and also the scenic attractions from the outstanding viewpoint of Winter Hill, now the property of the National Trust. There are many well signposted walks including those in other areas of the parish also administered by National Trust such as Cockmarsh and Cookham Dean Common.

Things to Do in Cookham

Accommodation
Stay at nearby Cliveden, one of the world's finest luxury hotels, this grand stately home is set in the heart of the Berkshire countryside, surrounded by 376 acres of magnificent formal gardens and parkland. .
TripAdvisor
What's Nearby
This Gallery is dedicated to the life and work of Sir Stanley Spencer RA (1891-1959). It…

0.13 miles away

Cliveden is one of the finest five red star luxury hotels, set in 376 acres of National…

0.75 miles away


The Cliveden Spa offers a unique historic experience in breath-taking rural surroundings…

0.75 miles away
Bourne End Marina is situated on the Thames between the towns of Maidenhead and Marlow…

1.18 miles away

1.2 miles away

Nestled high above the River Thames with panoramic views over the Berkshire countryside,…

1.32 miles away

A great place for a family picnic with toilet facilities, picnic tables and benches, and…

1.9 miles away


Relax, unwind and be pampered by one of our fully qualified Beauty Therapists in any of…

2.1 miles away

Longridge Outdoor Activity Centre provides a range of adventurous activities that are…

2.29 miles away

Cruising the Thames doesnt come any more relaxing than when you hire one of our private…

2.88 miles away

Bisham Abbey Sailing and Navigation School is based within Bisham Abbey National Sports…

2.93 miles away

A Luxurious Self-Drive Widebeam with the style of a Canal Boat.

2.93 miles away


Formerly a garden dating back to 1758, Higginson Park, a Green Flag park, has been a…

3.07 miles away

Salter's Steamers is a family firm that has provided first-class hospitality on the Royal…

3.07 miles away

Electric boat, Canadian Canoe or Stand Up Paddle Board Hire from base at Bisham Abbey. We…

3.12 miles away

These properties include commonland and greens to the south of the River Thames. The…

3.16 miles away
Previous
Next